This is Sarah! Sarah has been a valuable member of the My Place Home Care team since late 2018. Sarah works as a companion with us and enjoys musical theater and philosophy. Sarah is a reliable and strong companion who enjoys spending time with her clients and helping wherever possible. Sarah shows great compassion towards her clients and is always willing to go the extra step for them. With her experience working with dementia clients, Sarah demonstrates great communication in regards to the state of her clients. She never shies away from asking questions when she feels something isn't right with her clients.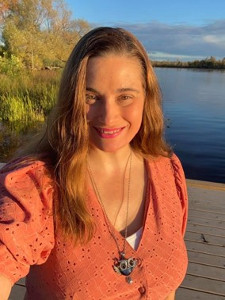 YEARS OF EXPERIENCE: 2+
CAREGIVER STATUS: Companion
Sarah's advice for new caregivers: Have patience, treat clients they way you would want a loved one treated. Be compassionate, listen!
Additional qualifications:
-Education in Dementia care
-Art & Science Community Studies Diploma
-Owner of Sarah's Au-some Treats
Fun Facts:
Sarah loves to decompress with movies, music and long walks. She loves Chinese food. Has interest in phylosophy, psychology and sociology.