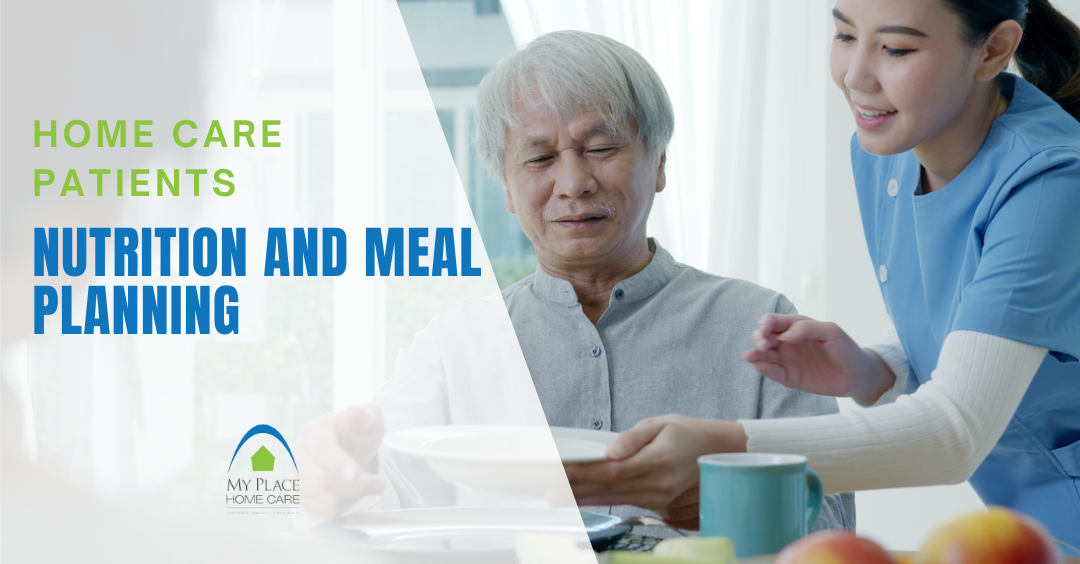 Nutrition and Meal Planning for Home Care Patients
As a caregiver, ensuring that your loved one receives proper nutrition is an important part of providing quality home care. Good nutrition plays a crucial role in maintaining overall health, energy levels, and supporting the healing process for individuals with chronic conditions or recovering from illness or injury. However, meal planning and preparation for home care patients can often present challenges for caregivers. 
Benefits of Good Nutrition and Meal Planning in Home Care 
Good nutrition can have numerous benefits for home care patients, including: 
– Boosting the immune system 
– Maintaining physical strength and energy 
– Supporting healing and recovery from illness or injury 
– Helping to manage chronic conditions such as diabetes or heart disease 
The Role of Caregivers in Ensuring Adequate Nutrition
Caregivers play a vital role in ensuring that home care patients receive adequate nutrition. Some key responsibilities include: 
– Assessing the patient's nutritional needs based on their age, health status, and any medical conditions they may have. 
– Planning and preparing balanced meals that meet the patient's nutritional needs, taking into account any dietary restrictions they may have. 
– Encouraging the patient to eat and drink enough throughout the day to maintain their energy levels and prevent malnutrition. 
– Monitoring the patient's weight and overall health and making adjustments to their meal plan as needed. 
Challenges of Meal Planning and Preparation in Home Care
While providing home care, there are several challenges that caregivers may face when it comes to meal planning and preparation, including: 
– Limited mobility or physical limitations of the patient may make it difficult for them to participate in meal preparation and cooking. 
– Difficulty with shopping for groceries and preparing meals for the patient, especially for caregivers who work full-time or have other responsibilities. 
– Picky eating habits or food preferences can make it challenging to plan and prepare meals that the patient will enjoy and find appetizing. 
– Financial constraints can limit the options available for meal planning and preparation. 
Tips for Overcoming Challenges in Nutrition and Meal Planning
– Involve the patient in meal planning and preparation as much as possible to ensure they are receiving meals they enjoy and are able to eat comfortably. 
– Consider hiring a professional home care provider or nutritionist to assist with meal planning and preparation. 
– Take advantage of delivery services, such as meal delivery services or grocery delivery, to make meal planning and preparation more manageable. 
– Make use of slow cookers, pressure cookers, and other time-saving kitchen appliances to simplify meal preparation and make it easier to provide nutritious, home-cooked meals for the patient. 
Conclusion
Providing adequate nutrition for home care patients is an important aspect of caregiving. While meal planning and preparation can present challenges, there are several ways to overcome these difficulties and ensure that the patient receives the nourishment they need to maintain their health and wellbeing. With a little creativity, patience, and support from others, caregivers can ensure their loved one receives the nourishing meals they need to thrive. 
We here at My Place Home Care care for your health, wellness, and safety. Looking to join us or enquire about our services? Tap the link for all details you would like to discover https://www.myplacehomecare.ca/
Contact us today by calling us at: 613-686-6366 or email us direct at: info@myplacehomecare.ca
You can use these links to APPLY NOW or CONTACT US.
You can also click here.