Meet Carol! Carol has been a valuable PSW with My Place Home Care since early 2020 but brings 20+ years of experience with her to our company. Carol started her career in Home Care in the early 1990's and has not stopped since. She loves to work with her clients to provide meaningful care to them and their loved ones. Carol always puts the needs of her clients first to ensure their safety and overall well being. She is a kind, organized, and dependable caregiver who loves to share stories when engaging in conversations with her clients. Carol is a great communicator and will always provide you with updates on how your loved one is doing.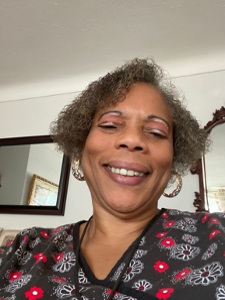 YEARS OF EXPERIENCE: 20+
CAREGIVER STATUS: PSW
Carol's advice for new caregivers: My best advice is to learn new things and work to the best of your ability, always put a smile on your face whenever you are greeting someone. Care for your clients with love, be patient, be calm, try not to get upset at everything you can not control. Control your tone of voice when talking to your clients even if they are yelling at you because they might be in pain or feeling stress from their situations, be kind.
Additional qualifications:
-Education in Dementia care
-Palliative care Experience
Fun Facts:
Carol loves to relax in bed and listen to her gospel music or watch christian movies. Her favourite dish is jerk chicken with rice and beans.