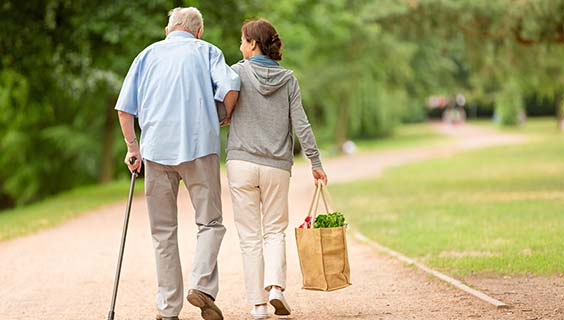 Importance of respite care
Importance of respite care
As a person declines in health it is usually a family member or, sometimes, a close friend who become the main caregiver to them. Depending on the new caregiver's other responsibilities, both familial and professional, the weight of constant giving can strain a person to their breaking point. While it can be very rewarding, it is also exhausting and continuous. The need for respite, even for a few hours, can be a relief for everyone, including the person whose health is declining. Respite care allows the caregiver to recharge and decompress and to concentrate on other things, including themselves. And for the person whose health is declining, it may relieve the stress of feeling like a burden to their loved ones.
When to consider respite care?          
This can be a difficult question to answer. The decision to ask for help is rarely easy even though you want the best for your loved one. It can be a challenge to trust another person, or company, to care for your loved one while you are away, even for a short period of time. There are a few questions you can ask yourself if you are considering respite care:
Do you find it difficult to keep on top of my daily tasks?
Are you frequently feeling mentally and/or physically exhausted?
Are the tasks that you are doing for your loved one becoming increasingly difficult?
If you answered yes to two or more of these questions, it may be time to consider respite care options.
Why is respite care important?
Respite care is crucial for the overall well-being of caregivers, without it they are susceptible to experiencing extreme stress, anger, or resentment towards the person in their care or other family and friends in their lives.
After respite care, the family caregiver can return feeling relaxed, well rested, and refreshed allowing them to approach the care with more patience and enthusiasm. Respite is good for the caregiver's physical, mental, and emotional well-being and can improve the quality of the relationship between the family member receiving care and the family member providing it.
Respite Care Options
Home Care
Home care companies provide companionship for the person while the caregiver is free to pursue a few hours to do what they want. Whether it is catching up on errands or chores or visiting with friends and family, the caregiver is relieved of the stress of constant caring. My Place Home Care can provide a regular schedule of respite care, whatever that schedule may be. It can be a few hours every day or a few days a week; it can be for a full day or even overnight. My Place Home Care allows the caregiver freedom to be themselves. The difficulty with the home care option is the cost. My Place Home Care can work with the caregiver to create a care plan that works for both the caregiver's respite needs and financial needs.
Adult Day Program
Adult day programs are available in the Ottawa area hosted by the LHIN partnered organizations
There are several day programs and respite options that can be found on the LHIN website including Adult day programs, overnight respite care and specialized day programs. For instance, Good Companions has a day program Monday to Friday from 9:30 am to 2:30 pm for persons with early onset to mild Alzheimer's, dementia, or cognitive impairment or adults with physical disabilities for $21/day and they have a similar program that runs on Tuesdays, Thursdays, and alternating Saturdays for the LGBTQ2+ community for the same cost. There is a maximum of 15 participants, and everyone must have a referral from the LIHN.
Another program offered by Carefor has a specialized program for seniors with mental illness such as chronic depression, anxiety, and bipolar disorder. The program is offered on Monday, Wednesday, and Friday from 9:00 am to 3:00 pm for $10/day.
Adult day programs are designed to enhance the well-being of individuals by providing social, physical, and mental stimulation in a supportive, small group environment. To give individuals the chance to strengthen the ability to remain independent for as long as possible; and provide respite to caregivers and families. Furthermore, the in-person program offers participants:
Opportunities to socialize and form friendships
Intellectual stimulation in the form of quizzes, brain games and discussion groups.
Individualized programming and social activities in the form of Bingo, crafts, puzzles, art therapy, painting, and therapeutic pets.
Individualized activity kits are provided for members.
Chair exercises, chair yoga, and Motiview by Motitech
A nutritious lunch and/or snack; arrangements for special diets are possible.
For additional adult day program options, check out: https://www.champlainhealthline.ca/listservices.aspx?id=10347
Family Assistance
Sharing the responsibility of care with other family members is another option. Dividing the tasks between many people ensures that no one person is carrying it all. Creating a family care schedule is an easy way to distribute the tasks evenly and allows all involved to accomplish their own tasks as well as assist their loved one.
Respite Zone
Create a space within the home as a respite area for the caregiver. It can be a space that provides comfort and relaxation. The space can be used when the loved one is napping or in a comfortable and safe position allowing the caregiver freedom to leave them alone for a time. While it's not time away from the home, it is a time to perform an activity that is relaxing to the caregiver, be it reading, watching tv, doing a puzzle, scrolling through social media or any other activity the caregiver finds relaxing.
And, it doesn't have to be a specific area, a set respite time is also an option that allows the caregiver freedom to complete a task or activity they like. It could be baking or cooking, painting, or drawing, or a multitude of activities one can pursue while their loved one is sleeping or in resting a comfortable position. Taking the time for oneself is what is most important.
Overnight care
Another respite care option is having your loved one stay overnight at a care facility. Some facilities that provide these services are the Ottawa Rotary home and the Perley
The Ottawa Rotary Home provides full-time and part-time support for people with physical disabilities. A person can stay long-term or during a post-operation period. They provide excellent care and strive to maintain the person's regular routine. The Ottawa Rotary Home rates are $325/night without financial aid. There is an option of subsidized care, if eligible. Contact the Ottawa Rotary Home for more information.
The Perley provides excellent care to persons with Alzheimer's and related dementias and can host your loved one for a short period of time for up to 90 days a year. The respite house at the Perley is a 12-bedroom bungalow style building that has spacious areas for relaxing indoors and outdoors and guests can enjoy a variety of activities aimed at aiding socialization. The Perley Respite House has a set rate for guests and that rate will be given to the care advocate once the application to stay is accepted. For more information, contact Perley Health or visit their website.